Artistes
FRANCE SAUVAGE (Fr)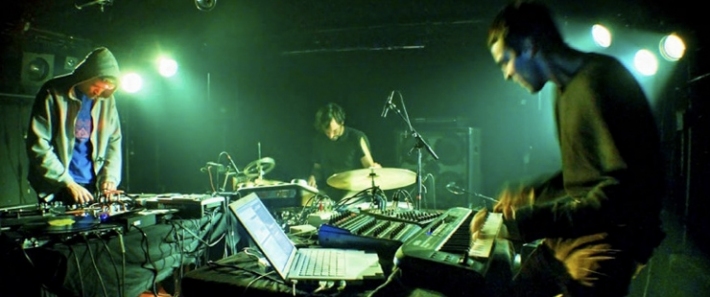 Groupe laboratoire balançant tout azimut musique concrète, indus, noise, punk, free jazz, musique de film
dans un bric-à-brac/bricolage jubilatoire, et en live, franchement jouissif. Bouillonnant d'idée, instinctif, vertigineux,
rocambolesque, foutraque et hallucinogène en live, un concert de France Sauvage ne ressemblera jamais à un autre
concert de France Sauvage.
Si l'esprit général reste le même, la direction/intention musicale peut balancer de n'importe quel côté à n'importe quel moment.
Toutes les sources sont exploitées et parfois à peine effleurées. Il n'y a pas précisément de méthode, il y a un "jouer ensemble"
qui prend conscience de lui même au fil de l'expérience. Une réjouissance totale à ne déguster qu'en une seule fois,
chaque concert étant différent. Qui a vu France Sauvage une fois n'a vu France Sauvage qu'une fois.
Extraits de presse:
"First is the pulsation, vibrating, organic, that announces the beginning of the trip. Then the shot. The confrontation.
The war between the parties is declared and the motivations are unshakeable. Hammering, slaughtering.
The beast will not survive. Even if it means to end up under a straitjacket or in the isolation chamber of the psychiatric asylum.
Screeching, gusts. Take that in your fucking face. Exult in your own blood.
The race has begun, the regular, metronomic rhythm cleans everything on its way. Until the trance. Repetition, fury.
Orchestration of chaos. The perception is shaken. Bewitchment. The music is a drug, it allows to see beyond.
The free sax gets stuck in some lifeless mud. We are beyond physicality. The soul floats, rambles, spreads out.
The sweat becomes vaporous. Threat. The situation is not so comfortable.
The winds come from opposite ways until the final blow. Rough, icy. The tongue is hanging, the words knife themselves.
Too instinctive and aggressive to be Kraut, the music of France Sauvage is too hallucinatory to be really industrial.
Vertiginously bubbling. A direct language. Rancid & acid."
Max Lachaud (Obsküre Mag)
LP (2017) Le Monde Des Doigts
Réedition vinyl de l'album sortie en CD en 2009
VIDEOS /
TOUR DATES 2018 /

05 février - Lyon (fr) grrrnd zero
06 février - Genève (ge) - L'écrurie
07 février - La chaux de fonds (ch) - Le Lac
09 février - Montreuil (fr) - Instants chavirés
03 octobre - Bordeaux (fr) - Novo Local
04 octobre - Lyon (fr) - GroundZero w/Ultra Zook/2 boules Vanille
05 octobre - St Etienne (fr) - URSA Minor w/Ultra Zook/2 boules Vanille
06 octobre - Clermont-Ferrand (fr) - Raymond Bar w/Ultra Zook/2 boules Vanille
12 octobre - Paris (fr) - La station - Gare des Mines05 octobre - Sainté (fr) - URSA Minor
2017
13 Decembre - Pau( fr) - A tant rêver du Roi
14 Décembre - Toulouse (fr) - Café Dada
15 Décembre - Villefrancge de Rouergue (fr)
16 Décembre - Bordeaux (fr) - Bruitisme - Void
LIEN
/
Soundcloud
Website